Hi!
I'm so excited today because I was asked if I wanted to do a giveaway for Sky Goodies on my blog and when I saw this super adorable typewriter calendar for 2016 that you can print out and make by the dozen for Christmas treats - I said YES - YES - YES!
Just leave a comment below, before the 10th of October for your chance to win the download for it! It comes with all the months for 2016 - cute isn't it!!!??!!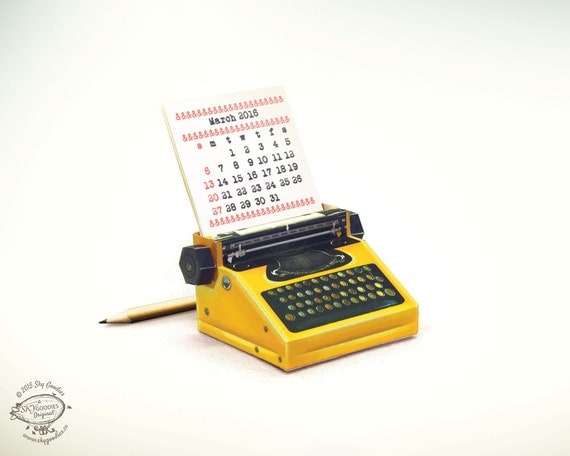 ABOUT SKY GOODIES
Sky Goodies is a brand of paper products, founded in 2013 by Amit Gudibanda and Misha Gudibanda. Our products are unique stationery items and do-it-yourself kits to make paper toys and articles of everyday use. The do-it-yourself paper craft kits come as printed, pre-cut, and pre-creased sheets with fold lines and instructions. No need for scissors or cutters. The prices are in the range of $3.99 and $9.99 per kit.
All the do-it-yourself kits have uses after they are assembled.
Examples:
* the typewriter calendars with monthly or perpetual date cards;
* little retro TVs that double up as photo frames and pen-stands;
* mini suitcases to use as visiting card holders, candy boxes or containers for trinkets;
* mini 'Goodies Carrier' trucks that can stand on desks and hold pretty much anything- from visiting cards, to stationery, to candy or pocket change;
* the flower pot boxes can be used as party favors with little cupcakes inside.
* the hot air balloons can be used as room decor, especially to add color to children's rooms.
The philosophy of the brand Sky Goodies is "Make Happy." We want to make everyone - ages 6 to 106 - play. Every day. Find joy in little hand-made things. To be happy and to make happy! Everything we make under Sky Goodies must qualify as a 'goody'; something that looks delicious, or brings a bit of joy to everyday life. Patterns and colors are very Indian, and Truck Art is an inspiration for many of the colorful products.
Our target audience is anyone above 6 with a bit of time on their hands... Our best-seller typewriter calendars are popular among all age groups, both men and women. The DIY kits are popular as party activities and return gifts. They are great for kids, as they encourage creativity, and hone their logic and motor skills. Mothers are happy that the DIY kits keep their kids busy.
Our one-of-a-kind notebooks, in the form of giant matchboxes, are inspired by Indian Matchbox and Truck Art. Other collections include ready-to-use Gift Boxes, Planners, and Labels. All the Sky Goodies products are designed by hand with love, in Mumbai, India.
Contact Persons: Athulya / Misha Email: skygoodiesmail@gmail.com, hello@skygoodies.co Phone: +91 9820368610
Website: www.skygoodies.co Etsy Shop: https://www.etsy.com/shop/SkyGoodies Facebook: https://www.facebook.com/skygoodies.co Pinterest: https://www.pinterest.com/skygoodies/ Twitter: https://twitter.com/skygoodiesco Instagram: https://instagram.com/skygoodiesco/ Other links: Over 600 5-star reviews: https://www.etsy.com/your/shops/SkyGoodies/reviews A few features: https://blog.etsy.com/en/2015/featured-shop-sky-goodies/ http://www.babble.com/home/10-calendars-to-kick-off-2014/ http://www.thisiscolossal.com/2014/01/diy-printable-paper-typewriter-calendars/
Other wonderful goodies from SKY GOODIES:
GOOD LUCK!!!!
Hugs, Karin